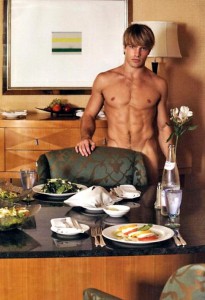 We've looked previously at some of the different ways for a sub to express their submission. One important aspect of  this is how to behave when you are both out in public. Since this is an area which my Aapha slave excels in and we do spend a lot of time out together, I have asked him to contribute the bulk of this post.
On one hand, this is obviously something that will vary from person to person, and what works for you may not work for someone else. In general, however, I think it's possible to divide submissives into two groups: those for whom submission is a mental state that they enter into for a fixed period of time (usually during a BDSM session of some kind) and those for whom the submissive state is constant – or, at the very least, permanent whenever they are around their Master.
The latter scenario presents one obvious problem: how do you express your submission in public? In the privacy of your or your Master's home it's easy to do things like wear a collar, but it isn't socially acceptable to do such things in public. (Unfortunately!)
Thankfully, all is not lost. There are a myriad ways to subtly express your submission, things that will have meaning for you but will not draw any undue attention from those not in the know. And I think the 'for you' is a key point here. There's no list of submissive expressions approved by the High Council of BDSM. You don't need to justify your own private code of conduct to anyone else. If it has meaning for you and your Master, then go for it, even if others in the community might scoff at it.
Below I'll describe some of the ways that I express my submission towards Master Tim when we're out in public, along with my rationale for each. These might be something you want to emulate, or they might not resonate with you at all. And that's fine! At the very least, I hope they'll inspire you to think about public submission and what it means for you.
1) Always walk slightly behind your Master
This is a pretty simple one, but it's also very easy to observe. Whenever I'm out in public with Master Tim I always try to stay one or two paces behind him and walk to his left. What I like about this is that it's very subtle, but at the same time is something that you really have to constantly pay attention to if you want to observe it continuously. Because of this, it's a good way to stay constantly mindful of the submissive dynamic in your relationship.
Obviously, this isn't something you can do absolutely all the time. (Attempting to keep this up in a busy London train station can be a bit of a logistical nightmare, let me tell you.) How strictly you're expected to adhere to it (or any of these suggestions) will be something for you to decide with your Master.
Master T. This is something which he does automatically but when in a crowded situation I love watching him self-correct as we keep moving. Also, my husband likes to walk on my left. When the three of us are out together, I sometimes have to stifle a giggle when, out of the corner of my eye, I observe them both good naturedly jostling for that position!
2) Opening doors first
A good exception to the above rule, if you're following it, would be to step forward to open doors for your Master. Again, it's something that's very easy to do, but if you try to do it all the time you'll realise that it takes quite a bit of vigilance to get right.
3) Carrying things for your Master
This one is a bit of a no-brainer. If you're out in public with your slave, why should you carry something yourself when they can do it for you? If I'm out with Master Tim and he has something to carry (shopping, a coffee cup at a cafe, a jacket) I'll always offer to carry it for him.
Of course, this doesn't mean that you should grab something out of your Master's hands as soon as he takes hold of it! Always offer your services to your Master rather than assuming that he wants them. Sometimes he might prefer to carry it himself, or simply not want to load you down with too many things at once. Don't be pushy!
4) Wear a 'public' collar
This one requires a bit more forethought, but has the advantage of being something you can do even if you're not with your Master. As I said above, wearing a collar in public tends to attract unwanted attention (at the very least, people will think you're some kind of hipster who's trying way too hard to be 'different'), but you can wear something else that stands in for a collar. Traditionally people have used a chain kept in place with a small padlock, but that's also a bit conspicuous if not worn under your clothing (and could be a bit uncomfortable as well).
Really, you can use anything here – a necklace, a bracelet, even your wedding ring on a chain if your Master also happens to be your husband (or your Mistress your wife, as the case may be). Anything that holds significance for you will work. The main point is that it's something you should be able to wear all the time. When you put it on in the morning, reflect on what it means to you as a submissive. You'll know it's 'working' if it helps you do that.
Master Tim's Footnote.
As alpha has mentioned there are so many ways to discretely show your subservience and with a little ingenuity it is easy to find little ways to respect your Master. A couple which he did not mention but which he still does include waiting until I sit down before he sits or not getting into the car before I do. Also, what I call the Coffee Shop scenario is when we go for a coffee etc. it is his place to do the ordering/collecting even if I am paying. It is important to point out that in just the same way as he takes great pride in these little things, I never take them for granted. If for example we emerge from a crowd or get off a train etc. I am always aware of him moving as quickly as he can to take up his habitual position and that makes me very proud of him too.