In part one I described the elements that I look for in a potential submissive. Now perhaps it's time to consider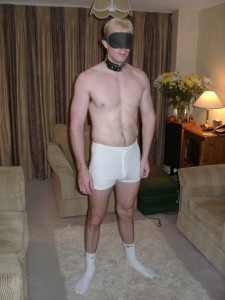 some of the practicalities for both the Dom and the sub. What are some of the deal breakers and deal makers for me in deciding whether or not to take somebody on?
There are so many variables in this process that it would be impossible to give a definitive, one-size-fits-all guide to the first encounter. There are, however, a list of factors which can be checked early on in order to save time and misunderstanding.
1. Know what you are looking for, whether it is fun, experience, learning, a regular kink partner or a life-long lover. This is the point where fantasy and reality first need to part company. Most players, whether Dom or sub, are not looking for a life partner. In my own case I make it clear from the start that I already have a life partner and he comes first always. Experience tells me that many subs are reassured by this. I am lucky that I can be completely open and transparent with my partner and that he fully supports what I do. This will not be the case for everyone and you may need to compromise on some principles in order to make things work for you. I never sit in judgement of others and nor do I believe should any of us.
To give one example from my own circle, I have a regular sub who I have been seeing for  almost 20 years now. He is happily married and has a really great relationship with his wife. Once a month or so he visits me to give his kinky sub side a good airing. His wife has no idea about this but he firmly believes that without such a relief valve in place, his needs and desires would probably have destroyed his marriage years ago. I know that a few of my readers will now hate me for that, but it is not my place to judge another for his life choices.
For most BDSM practitioners, the ideal relationship lies somewhere between casual playmates and life partners. Maybe the "friends with benefits" description fits better?
2. First contact these days tends to be online and therefore site profiles are all important. As mentioned elsewhere however, never assume that the person described in the profile is the person you will meet. Internet 'ages' and waist sizes ( plus other measurements) are moveable feasts!
Good BDSM relationships depend on honesty and trust. For me this starts with the profile. If you truly intend to meet somebody, they will find you out at first meeting so why set yourself up to be a disappointment to them? Of course it is also a fact that the majority of the kinksters online get all their kicks online and never actually follow through with a real meeting. Always remember the formula SW + SW + SW = N. Some will, some won't, so what. Next!
There are dangers lurking in the falsehoods too. I've had 18yr olds eager for their first experiences who, when they finally send pics, are clearly under age. Don't be scared to ask for proof and if they won't provide it in advance then move along swiftly.
3. For me there is another deal-breaker and that is the issue of unsafe sex. Way too many young people these days get to the safe-sex box in the form and the think it's cool to put 'Needs discussion'. No it does not. There is no discussion to be had. There is no reason and no excuse for unsafe sex ever. Okay so now I've lost a few more readers but Hey Ho!
4. Diversity is all. No two subs are the same. No two doms are the same. No two relationships are the same.
There is somebody out there for everyone whatever their age, shape, size, colour, gender or kink. Your BDSM playmate may bear no resemblance to anyone that you would seek to have as a lover. That's not what it's about. If you are looking for experiences, skills, stability or security  then age and looks may have a lesser part to play in your choices but thats not to say that a sexy dom or sub won't make it all that much easier.
Time to draw some conclusions then. What do I look for in the ideal sub?
Attitude: Open mindedness and willingness to learn.
Submissiveness: Not mindless but intelligent and masculine (my chosen gender, yours may differ)
Limits: Hard or soft but mutually agreed and respected.
Regularity: Not to be confused with frequency but rather just an interest in coming back for more.
Honesty: Age, size, experience (or lack of), Relationship status.
Safe Sex: No discussion needed.
Diversity: variety really is the spice of life.
Personality: A sense of humour is essential.
Whether you are a Dom, a sub, or one of my fellow writers looking to create new realistic characters, I hope these words have helped. Just remember it is only a guide so use those bits that fit your own situation. Have fun and play safe.