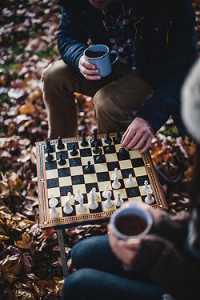 We've looked at why you should negotiate with any prospective Dom about your limits, and why it's important to lay a lot of groundwork before you decide to meet with someone. I wish I could say that everything after that point is nice and straightforward, but of course, it isn't. (You may be starting to detect a theme here.)
You've no doubt read a lot of the standard advice when it comes to meeting someone from the internet for the first time, but I'll repeat it here anyway just in case. These guidelines are designed to keep you safe, so think long and hard before you choose to ignore any of them!
1) Meet in Public. This one is a no-brainer. Be very cautious if someone insists on meeting you in their home or in a secluded spot – there is no conceivable reason why someone should demand that you meet them for the first time in a park at night, just to use one obvious (if unlikely) scenario. If someone wants to meet in a strange place, ask yourself why that might be.
2) Be specific about why you're meeting. Generally speaking, your first interaction with a Dom will involve more talking than playing. As with the previous point, remember that they should be trying to protect themselves as well by making sure you're the kind of person they want in their home (or wherever else it is you'll eventually end up). An over-eagerness to get you into a private place so they can tie you up as quickly as possible might be a sign that they're not going to respect your wishes once they have you in a vulnerable position.
3) Have a way out. Ideally, you'll want to tell someone where you're going when you meet for the first time and make sure that they're expecting to hear from you at a specific time. If that's not possible, then at the very least make sure that you can contact someone if need be during your first meeting. This goes hand-in-hand with meeting in public.
Apart from just safety, though, there are some other things to keep in mind when arranging an initial meeting. I've been harping on about the fact that when you meet a Dom or a Master, you're also meeting a person, and it applies here as well. If you meet in a coffee shop (which is an excellent place to do it, by the way), what will you talk about? Do you have any questions you'd like to ask? Have you thought about what questions they might ask you?
If you're only planning on meeting for occasional rounds of BDSM play, then all of this might seem like something you don't have to worry about – after all, it's not as if you're on a first date. But if the person you're meeting has any aspirations towards being your permanent Master – if you consider yourself a slave, in other words – then this first meeting will be almost exactly like a first date.
By this point you'll have be finished with the negotiations and limits-setting stages (I hope), but remember, it's not too late for either party to realize particular meeting isn't entirely what they're looking for. This could be something as general as a personality mismatch, which definitely does matter in the BDSM world, or something as specific as a previously-unmentioned fetish which is a must-have for one person but a complete dealbreaker for the other. As always, the important thing to keep in mind is that you can leave at any time if you feel uncomfortable. It's not as if you've committed to anything. (And actually, even if you have committed to something, you can still leave.)
But I don't want to dwell on the negative too much. Your first meeting with a Dom or Master should be a wonderful experience even if you do nothing but get to know each other face-to-face after previously chatting online. Whether it's the beginning of something more long-term or just a once off meeting, for many subs or slaves it will be the culmination of years of fantasizing and dreaming. Stay safe, lay the groundwork and try to ignore the butterflies in your stomach!