Today's post is told mostly by my alpha slave whom some of you have met. A few months ago we marked ten years together which is something I am so proud of him for. That is not just for ten years of serving my exclusively, but for the amazing young man he has become and continues to grow as. Over to him:
This is something I've been thinking about for a while, the kind of resource I wish I'd had back when I first started looking into the world of submission. I'm going to attempt to describe a day in the life of a slave – specifically, a day in my life with Master Tim.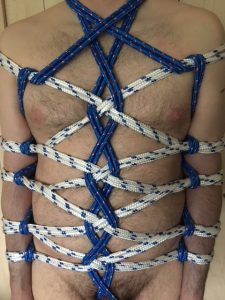 I've cautioned readers before that a lot of what I write here is based on my own personal experience and shouldn't be taken as universal truth. I'm sure there'll be people reading this who don't recognize themselves in what I've written here, or whose concept of submission is radically different to mine. If that's the case, please do leave your thoughts in the comments section. It would be great to hear from people with different experiences!
With the disclaimer out of the way, let's get started! What follows is a brief overview of what an average day as Master Tim's slave is like for me.
First of all, I should point out that I don't live with Master Tim, but in the space of a year we do spend a lot of time together. When I'm not with him we communicate with each other daily (actually several times daily!), but this is going to be an account of a day when I am staying with him.
On a normal day, he'll usually come and wake me up sometime around eight or nine o' clock. The first order of business for me is to make coffee or tea for both of us and then prepare breakfast. This is something I'd do for myself anyway, but I enjoy doing it for him. When breakfast is over I usually tidy up the kitchen and empty the dishwasher so that he doesn't have to worry about it.
If that all sounds tediously vanilla, let me introduce something a bit more 'BDSM-ish'. When I'm at home with Master Tim I wear a leather collar most of the time. (And when I say 'most of the time', it includes when I'm doing such exciting things as having dinner or watching TV. If this seems strange to you, you're probably looking for a different submission experience to me!) However, it tends to irritate the skin around my neck, so I ask him to put it on me after I've had a shower.
This is one of those things where real life and fantasy don't necessarily coincide. Ideally I'd like to wear it all the time, but occasionally that's not practical. Of course, it would cause some problems if I was to wear it around outside, so I don't do that. I bring this up only to highlight the fact that the mundane facts of life do sometimes intrude on our idealized versions of reality. In this regard, being a submissive is no different being any other kind of person. Sometimes you have to make compromises! To mark our recent anniversary Master Tim locked a stylish black necklace on me. Only he has the code and I have happily worn it ever since, as a constant reminder of him.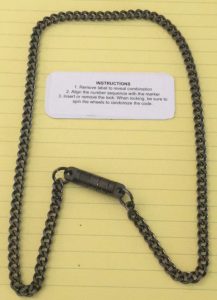 After breakfast, I'll usually accompany Master Tim on whatever else he's doing throughout the day. I've always tried to be a useful companion to him, which for me means enhancing his everyday life rather than expecting him to cater exclusively to me when I'm with him. I look for ways to assist him with things, even if it's something as simple as tying his shoelaces, or carrying the shopping from Tesco.
When we're out and about together I like to maintain my role in subtle but important ways. For example, where practical I always walk on his left hand side just a short pace behind him. I also open doors for him and carry any bags or shopping that we take with us or gather while we're out.
Again, this might all sound painfully boring to you, but to me it gets right to the heart of being the particular kind of submissive known as a 'slave'. I can think of no greater expression of submission than striving to be someone who enhances my Master's life whenever I can.
That includes anything related to sex, which I haven't mentioned yet. I believe that I should make any kind of sexual activity as pleasureable as possible for Master Tim – which isn't to say that I don't enjoy it as well. I do, a lot! But I think that a part of choosing to submit as a slave is to always have your Master's pleasure in mind – regardless of the circumstances.
By now you hopefully see why I've been harping on about keeping compatibility in mind when you're seeking out a Dominant/submissive relationship. If you're looking to be a full-time slave, there'll be a lot of times when you're not doing typically 'BDSM' things. You're unlikely to find what you're looking for if you don't meet someone who you enjoy being around. Thankfully, I've been very lucky in that regard!
-Alpha Slave