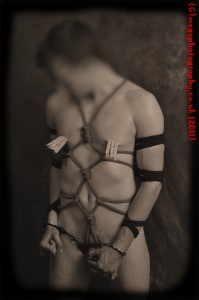 In the last post my alpha slave introduced the idea of some options for meeting offline. Today I'm going to expand on that and discuss some important points of etiquette relating to these events.
For many novices, even though spending hours online 'researching BDSM' is well within their comfort zones, the idea of actually going that one step further and arranging to meet a real Dom can be terrifying. There are lots of easy alternatives and among the most widespread and popular of these are the informal social gatherings known as munches. There are believed to be in excess of 100 of these throughout the UK alone. Often they are social gatherings in pubs, wine bars or coffee shops and are usually advertised through social media. These are truly welcoming affairs and even those which take place in gay pubs and clubs will set aside a room to welcome attendees of all genders and sexualities. Most of the UK munches are trans tolerant, but some are aimed at specific groups – e.g. men only, women only, under 30's etc. so it is wise to check in advance. A more recent development is the greater awareness and acceptance of polyamory so be prepared to find multiple partnered groups well represented here.
Most munches discourage overt BDSM behaviours because they meet in public, although depending on the venue, many attendees will dress-up for the occasion even if only to wear a leather collar or locked chain. For more background information do look up the Wikipedia article on munches.
Another development over the past 15-16 years in the UK has been the Fetish Fair. Aside from occasional one-off fairs there are three large regular monthly fairs starting with the London Alternative fair on the first Sunday of every month, the London Fetish Fair on the second Sunday monthly; possibly the largest is Birmingham's Bizarre Bazaar on the third Sunday of the month. These events have bars and cafes and there are many fetish suppliers and trades stands as well as workshops and demonstrations throughout the day. These are of course very sociable events but they are also about educating and informing BDSM novices in a safe informal setting – especially with regard to safety and best practice.
More specific to the gay community there are both regular and less regular BDSM, leather and fetish nights all over the place including the now regular London Fetish week every summer. None are as fixed in the diary as the monthly 'Discovery Nights' organised by SMGays for the last 33 years and hosted at the Bloc South club in London on the third Thursday of every month. The aim of SMGays is to encourage safe and lawful SM practices through sharing of information among people with similar interests. The atmosphere is friendly and informal with a team of skilled volunteers running workshops or demonstrations relevant to each of the monthly themes. Attendees can watch or participate safely to get a taste of what they want. I have personally been a regular demonstrator at these events and would certainly recommend it for novices wanting to gain both knowledge and experience in a wide variety of BDSM activities. Incidentally, I'm also fortunate enough to be the Dungeon Master of SMGays, so my recommendation is based on considerable experience with them!
(A note here to my fellow authors. At the start of my novel 'Taking The Gardener' I wrote a scene in which my principle character goes to a Discovery Night and takes a shine to a sexy lad in a bondage demo. He meets an eager young sub who he then goes home with for a night of horny fun. My very first negative review chose to focus on that scene and pointed out that since such places could not possibly exist and that I was clearly a fantasist. I was taken aback not so much by the ignorance, but the arrogance of of the reviewer. Not only had I described an actual SMGays bondage night but even the sub (Kevin) was real. I agreed to meet him at the club for the first time and brought him home afterwards. Of course, I did not respond to the reviewer but I did enjoy a moment of righteous indignation over it.)
It is important here to consider some points of etiquette regarding these 'public' events. Many places and events will have their own rules listed clearly but most follow an accepted etiquette based on common sense, good manners, discretion and safety.
1. No Photography. As a general rule this ensures discretion for those participating. Occasionally a sub in a demo might ask the Dom to take a picture as a memento but that is between them only.
2. Do not touch: Never touch people or toys without permission. Remember that the submissive in any scene may be 'owned' by the Dom and is therefore not yours to touch without permission. Alternatively they may be a complete novice who has taken a huge step in submitting for the first time. Being groped by a complete stranger during the scene may put them off completely. Of course if humiliation is part of the activity, the Dom may allow or even encourage touching, but he must always have the last word.
3. Respect diversity: If we cannot respect each others various kinks  then how can we expect wider acceptance?  Never disrespect others or criticise them. If you want to have a giggle about the big butch construction worker dressed in work boots, hard hat, utility belt and pink lace panties, then do it in the car on the way home. While he is standing in front of you at the bar be sure to manage your eyebrows!
4. Never interfere with a scene: If you don't like what you see then move on to something else. If you have any concerns, ask an event organiser or monitor. Remember everything I've previously mentioned about negotiations and respecting limits. Stop words still apply here and NO always means NO!
For a good guide to best practice do take a look at the London Munch website. That and other links are listed below. Go and explore, visit and have fun.
www.londonalternativemarket.com
My thanks to GymHarry again for the sexy image.