Few relationship topics polarise personal opinions like 'the age thing'. In BDSM relationships one often finds large age differentials, and this exposes the same prejudices as any vanilla 'May to December' coupling does. For me, the biggest gap is not measured in the years between the individuals, but in the gulf of misunderstanding between the couple and their peers. It is a touchy subject and I (63) was not surprised when I told my Alpha slave (31) what the blog topic would be and he responded with, "I wondered when we would get to that one".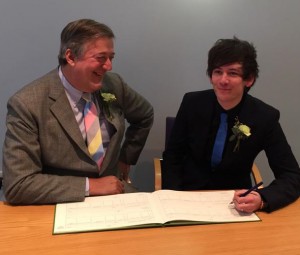 There has been much debate in both the hetero and homosexual worlds about loving relationships where there is a significant age differential between the individuals. We have had some very public pairings in recent years and witnessed the mix of hate speech and support which followed. The first Rugby Union player to come out as gay was the very young Sam Spencer (now 27). When he then revealed his much older partner, now fiance Laurence Hicks, both were vilified and labelled. Sam was apparently a gold digger and Lawrence a pervert! We have seen the varied response to the marriage between Stephen Fry (61) and his partner Elliot Spencer (31).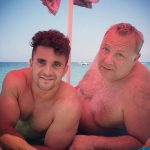 I was not surprised to see so many of their detractors focusing on the assumed negative reasons for the choices of both men. For those embarking on such relationships, the age thing is rarely a factor. For those on the outside however, it will bring the most unseemly prejudices bubbling to the surface. Even the stereotypical labels used to describe those individuals go from barely neutral to downright offensive; Cougar, chaser, trophy wife, jail bait and paedo are all examples.
For those couples who ignore the prejudice they find great happiness and riches in their choice but they are well aware of the challenges too.
In the BDSM world such couplings are no less common, and perhaps even more so. Here, alongside all the emotional considerations are some purely practical ones. I still meet prejudice about this and although much of it is the same as in the non-BDSM world, it is very clear that some of it is grounded firmly in that age old human feeling – envy.
The very worst responses to my preference for younger subs has come from young Doms. Most of these come in the form, "I can't get any decent subs because old guys like you steal them all". I have had those very words used against me more than once. Of course the answer has to be "Why do you think that is?"
First of all, of course, I do not steal anyone. It is the sub who chooses who they wish to serve. Many will choose Doms close to their own age because they use physical attraction as a primary factor. Most however, in my experience, will choose an older Dom for much more pragmatic reasons. First is that if they are going to submit, they may seek out an older Dom who has the most real experience and the most to teach. Secondly, an older Dom may be seen as generally more settled in his life and more emotionally stable. Finally, BDSM can be an expensive hobby and older Doms are more likely to have a better toy box or at least the means to resource one. Most just say that they feel safer with an older man.
The most crucial failure in understanding is that most people apply the same thinking to BDSM relationships as they do to more vanilla emotional ones. The young sub is usually looking for a Master to serve and a mentor to learn from, not a boyfriend. If they were seeking a life partner they would probably apply a completely different set of criteria and seek out a mate closer to their own age and style.
I have spoken previously about the sense of loss that a Dom can feel when a sub that he has trained, 'used', and loved leaves him. In my experience this has usually been because they have met a 'mate' and when that happens allegiances change. Then I can only wish for them all the same happiness that I have experienced with my husband, who, as it happens, is slightly older than me.
So why do I prefer to take on younger subs? The explanation is simple. Young subs may be inexperienced but they will be eager, enthusiastic, open to new experiences and, importantly for me, they bring little baggage with them. By this I mean that they will not have picked up too many bad habits either from another's training, or simply from too much freelancing.
Older, experienced subs can be great but often the they come with their own agenda. They will have their own menu of things that they expect to happen in a session. What should happen, where, how and when are all dictated while they attempt to 'lead from the bottom'. For me their minds are now closed to true service or submission and of no use to a creative Dom.
Do I go for younger subs because I only find young men attractive? Many around me like to joke about it but when they look closer they soon see the truth of it. Yes I like to take on young good looking guys, but now some of my most loyal and long serving subs are now well into their forties . They are still good looking but we have aged together. Some have been regular visitors for the last fifteen years or more and they are the most amazing subs. There are no secrets and they can now anticipate my needs as readily as I can fulfill theirs. I get huge satisfaction from those who go off to start new episodes in their lives; lovers, wives, children, careers, only to find them on my doorstep again years later because they have missed their Master.
To those young Doms out there who hate me because they think that the sexy young subs should be serving them rather than me, just hang in there. My advice would be not to give up but maybe to apprentice yourself to an older Master. That way you get the best of all worlds because you can learn from his experience, you also get access to his toy box and probably his sexy subs too!
I could probably write a whole book on this topic but that's not what a blog post is meant to be. Instead I am going to leave you with a set of points for further thought and discussion. Don't be surprised if they contradict because of course the only rule is that there are no rules.
Being a young Dom is frustrating. You need credibility but it is hard to get experience. Don't give up, it really does get better.
Age is a fluid thing. Young subs become old subs.
Old subs invariably can end up with fewer choices.
Culture can play a big part in how the age thing is viewed. Go look up hypergamy.
The biological imperative. I have mentioned this before. Younger women traditionally seek men who can provide the resources necessary for the survival of the family. Men seek younger women who will give birth to the healthiest babies.
In Ancient Greece young boys often partnered older men as lovers and pupils and yet long term homosexual relationships were frowned upon.
There are many varieties of BDSM/Kink where the age thing is important e.g. Daddy/boy, Bear/cub, AB (adult baby), handler/pup etc.
Young Doms can be real naturals.
Some young Doms like older subs.
An older sub can teach a young Dom.
Some older subs like to serve young Doms.
Some people are hot and sexy at any age.
Age really is just a number.
There is somebody out there for everyone.
The term boi often replaces the word boy in BDSM play.
Your values and beliefs are yours. Do not assume that they are the same for others.
Love is ageless.
Arrogance cannot replace experience.
Learn from the best that you can find.
Be the best that you can be.
I will leave the final word to Grandma Alice in my novel Bear Among the Books. Upon meeting her grandsons much older boyfriend, she reminds him that when it comes to love "The heart shows no wrinkles"