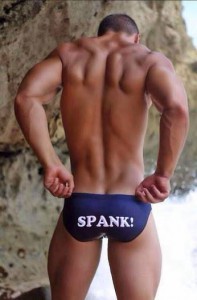 Warm Hands, Rosy Cheeks.
Time to start the practicals and get on with the hands-on (sorry!) stuff. Since I started the BDSM journals on here, we've posted 23 blogs. Much of the content could be described as general advice for BDSM practitioners and writers. There is still more of that to come, but today with post number 24 I want to start looking at the first of the practical activities. Whether you want to do it, have it done unto you, or to write about it, this is intended to be your KISS guide: Keep It Safe and Simple.
Why do we spank and/or get spanked?
Spanking is probably the single most popular BDSM activity, especially if we extend it to include paddling and flogging. Spanking is also the first and for some the only kinky activity that most people experiment with. Spanking can be used for fun or as a punishment tool and of course those two things are not mutually exclusive. We could talk about the power play and the strong feelings of dominance and submission present in the spanking activity. We could talk about how control and humiliation are powerful aphrodisiacs. Let's be clear however, whether you are laying your trembling sub across your knee or bending them over the end of the bed or pommel horse, it is hard to ignore the attraction of an upturned arse. I don't care if you are the hardest leather dom, Master of the Universe – a sexy bum will elicit responses which few can deny.
Much as I want to focus on the fun, you will know by now that I take this stuff seriously and will try to give you the best information to use both as a practitioner or as a writer about to compose a sexy spanking scene. If you are going to start using spanking as part of your BDSM play, there are several points to consider. Once you have mastered the basics, the rest comes with practice – and what fun that is!
First, the anatomy lesson. Yes, you do need this because you want to have the most fun with the least amount of lasting damage. You won't need a map of body parts since you can learn all you need just by using your eyes and your hands. No-go areas for spanking include the lower back, the coccyx (tail bone), backs of knees and hip bones. Striking any of these areas could cause lasting damage and your sub's play hate will quickly turn to genuine rage. Finding the tail bone does not have to be a clinical process and can be built into the warm up. If I am about to administer an over-the-knee (OTK) spanking, as a right handed dom, I will run my left hand down the spine until I run out of bone. Every arse is really different but for most people the tip of the coccyx will be at the start of the crack between the sub's cheeks. I would suggest that novice spankers should then keep their fingers in place on that tail bone as they start to administer the slaps.
You may wonder why, when I'm talking butt stuff, that I now mention genitals. In future I will visit the whole subject of CBT ( cock and ball torture) in some depth, but for now just be careful. When spanking the lower butt or upper thighs, be aware that your sub boy's balls may be caught and his reaction may be very different from what you intended. If you have a sub girl over your knee you can actually take advantage of her different anatomy. The clitoris being mostly an internal organ is well protected but its position allows you to indulge in a neat trick. If you spank the crease between the arse cheeks and her upper thighs, and you angle the slaps upwards from below, the blows will be felt as vibrations to the clitoris. In the right sensual context some lucky girls can actually orgasm purely from this action.
Before we move to hands-on, there are a couple of other things to consider.
Pain is a very subjective thing. Spanking differs from most other forms of pain play in that it is an impact pain rather than a stress pain. You may be surprised how much of a turn off this may be for some people. I have elsewhere mentioned my big strapping rugby playing sub lad. He can take levels of pain and bodily injury (on the rugby field) that would terrify the average sub. Spanking however is definitely not his thing and tempting though it is to lay into his meaty arse, any attempt to do so instantly reveals his inner wimp.
Of course a dislike of being spanked may have a strong mental element to it. Any master worthy of the label will always keep the mental, emotional and spiritual ecology of his sub in mind and will apply these things before applying his hand. For me, whether using spanking for fun or chastisement, a big part of the thrill is using my voice and actions to build the anticipation to the point where the sub is almost ready to beg for the feel of my hand.
A final word of warning. Even if you are using the spanking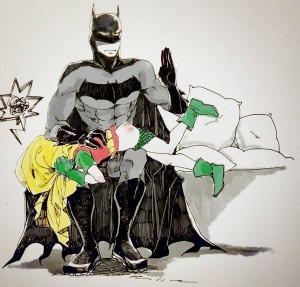 as punishment, NEVER spank in anger. If you do this you are no longer in control and you may not know when enough is enough. To be honest I rarely use spanking as punishment. If a sub is well trained, they will rarely, if ever, need chastising and I would get really frustrated waiting for a chance to spank them. As in many BDSM activities, the participants often need to employ their acting skills. I spank a sub because I can, not because I need to. Even the most intense spankings can still be extremely sensual.
I used the title The Art Of Spanking for this post because there is real skill involved in administering a sound, erotic sensual spanking Like all art forms spanking needs a little knowledge and and a lot of practice. It is only with practical experience that a dom will develop their own style and techniques.
All the best sessions will move through a set of stages and each situation will dictate the importance and choreography of those stages. In Part II I will guide you through each stage in detail starting with positioning and warm up before looking at pace, delivery, intensity and aftercare.
Until then if your hands need warming up or you need a rosy glow to bring some colour to your day, you know what to do.