Welcome to the second part of the Master's Voice series!
Over the coming weeks I'm going to continue to explore the motivations and behaviours of some real submissives in BDSM settings. In particular I have recruited my Alpha slave of over ten years to contribute regularly to the 'sub' part of this story. This usually begins with what the sub or slave is looking for. (Yes, there is a difference between a sub and a slave, and I have previously looked at what defines the two.)
Once the sub/slave has found his (or her) Master or Dom, how do they know that they are right for each other? If they are then how do they negotiate the nature of their service?
Every sub or slave serves differently and so we will look at the levels of service and of the satisfaction of both parties in a BDSM relationship.
By way of 'setting the bar', what follows is an account from a true slave. For me he is a great example of a slave not driven by sex or fetish but by the desire to belong and to be 'owned' in the classic sense. This describes devoted servitude to a much admired owner. In this example that admiration and respect is very much a two way thing.
—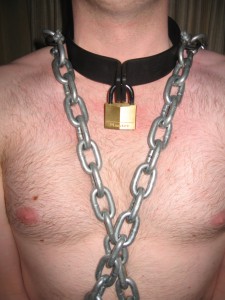 Master Tim's first post in this series is about the difference between a sub and a slave. Reading that post brought back a lot of memories for me, because there was a time when thinking about that exact distinction occupied a fairly large amount of my time.
When I first started to explore the BDSM scene online, I was disappointed to find that a lot of people – or even most people – seemed to be looking for an experience fundamentally different to what I had been craving for as long as I could remember. I read descriptions of how Dom/sub interactions played out, browsed through a seemingly-endless list of 'Your first time' guides and looked at the profiles of dominant and submissive men on places like Recon.com, and felt a complete lack of connection to any of it.
The problem, I soon realised, was that I wanted a Master/slave relationship rather than a Dom/sub one. How did I even know what that would look like, you ask? Well, I didn't. I just trusted that I'd recognise it when I saw it.
As you can imagine, this isn't a very productive way to go about looking for something, but if I wasn't sure what I did want, then at the very least I had a good idea of what I didn't want.
I didn't want anything where there was any level of ambiguity about who was in charge. The idea of switching places between the submissive and dominant role with the same person was alien to me then and still is now.
I also didn't want to enter into a time-limited arrangement where I could be submissive to someone one minute and then abruptly stop being submissive the next. This, more than anything else, was what confused me during my initial forays into the BDSM community online; I had assumed that the concept of submission as a perpetual state of affairs outside of a pre-defined session was universal, when in fact it's anything but.
Finally, I didn't want a relationship with a dominant to be defined by a list of fetishes. In fact, I was somewhat dismayed to find that the common fetishes didn't do a whole lot to excite me. When I pictured being a slave (and that was always the word I used, rather than 'sub') it didn't involve bondage or CBT or any of the rest of it – at least not as a primary component. I could imagine myself enjoying those things, certainly, but only in the context of being ordered to engage in them for the pleasure of my Master. It was the thought of pleasing him that was most exciting to me, not the activity in itself.
The crucial moment for me came a few days after I was fortunate enough to meet Master Tim online. We messaged each other a few times, and after a while he asked me to describe some of what I'd like to do when we eventually met. I can't remember exactly what I said to him, but I can tell you that it didn't have much to do with the bedroom. I had decided that I wanted him to be my Master, and that meant giving myself over to him as a slave at all times – in the bedroom, outside of it, whether we were together or apart.
I wanted to be ready to carry out his wishes at all times, even if it was something as mundane as him telling me to tidy up the kitchen after breakfast. That might not sound particularly exciting to you, but keep in mind that it's not supposed to be. I suppose I was getting at something closer to a 'lifestyle' (although I hate that word) than a fetish or kink. I was looking for fulfillment rather than excitement.
Happily, it turned out that Master Tim had very similar ideas about slavery to myself. Through him I've seen how a huge variety of Dom/sub and Master/slave relationships work, which has convinced me of two things. Firstly, you can never know exactly what you want until you see it in action. Secondly, there is room in the world for almost any kind of relationship you can imagine, so don't let what the rest of us do limit your imagination. Whatever drives you, and whatever you find yourself craving, you can make it work with the right person. All you have to do is find them.
-Alpha slave