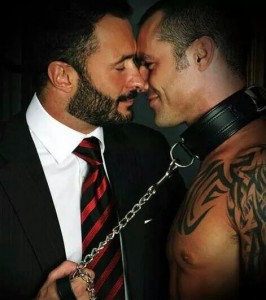 Having established what kind of relationship you are seeking in the world of BDSM, let's take a look at how you go about finding the right Dom or Master.
Starting at the beginning let's consider how I respond to those guys who apply to serve me as subs or slaves. The early interactions are so important to the process and should not be rushed. Having said that, in my experience, most subs have spent a long time dreaming, fantasising, reading and often viewing porn as they rehearse in their minds just what is going to happen once they finally take the plunge and meet a Master. This leads to an eagerness to get started and can result in risk-taking and frustration.
Young guys can be reckless in their enthusiasm. I am often approached by newbies seeking their first experiences. We chat a little, and agree to continue the next day. Then I get an excited message telling me that he is now 'owned' and his new 'Master' has now taken control of his online profile and of his life.
"Great," I say. "When did you meet him?"
"Oh, we've not met yet," comes the reply. "He lives 500 miles away." (Or in another country, another continent, etc.)
So this poor lad has created an account on one of the gay dating sites and in less than 24 hours some guy he has never met tells him that he is now his owned slave and must no longer chat to anyone else. He will receive 'commands' to take any number of photos to send to the new master, or to engage in Skype sessions where the slave will perform on camera.
Would it surprise you to learn that they will never meet? Or that the master has no real-life experience? It happens!
My advice to freshman subs is to chat to lots of guys. Do not commit to anyone. Ask questions, learn, and filter your communications. Never agree to a first meeting in a stranger's home. I have written elsewhere about precaution. Remember that online profiles may not be entirely accurate. (Shocking, I know.)
Domination is not based on arrogance. No man is a Master or a Dom just because he says that he is. I believe that the title of 'Master' or 'Sir' must be earned, not assumed or commanded.
Early negotiations are extremely important, and are not unlike the 'courtship' period in a non-BDSM relationship. This is not a time for giving orders and obeying, but rather for asking questions, stating objectives and above all listening to responses. If either party is not being listened to, then it is time to move on. Don't be put off, just learn from the experience.
After all, if you were going to hand your car over to a mechanic for repairs, you would probably go to somebody who was recommended to you. Why in the world would you consider handing over your own body to a complete stranger without first asking for testimonials from other subs who have met him? If he refuses to let you do this, then you have all the information you need. Move on.
If I have not already scared you off, come back for the next part, where we'll start to look at all the fun you're going to have once you meet someone you're compatible with! So now you want me to tell you about all the 'good stuff' straight away? I have intentionally kept this part short because the information in it is really important and I want you to take it seriously before getting distracted by the fun stuff.