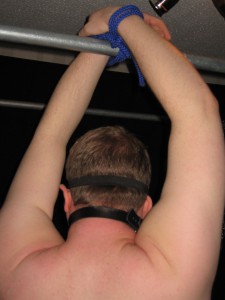 Before we get into a discussion of limits, I want to make it clear that I am in no way attempting to spoil your fun here. In fact, the opposite is true and I hope to arm you with the tools to ensure you the best possible experiences.
At some point during your travels through the online BDSM world, you will no doubt have come across the term 'limits'. People have limits, you will have been told. Doms and Masters must respect your limits, which means that you must make them aware of what they are. Limits are important!
You should be able to enter a BDSM relationship or interaction knowing that the experience will be a wholly consensual one. Any Dom who ventures into the realms of non-consensual behaviour is an abuser or even a rapist and should be treated as such.
'Limits' are pretty much what they sound like: things you're unwilling to do. This might be because they don't interest you, because you don't want to do them with that particular person, or because they're an extreme turn-off for you. Regardless of the reasons (and you shouldn't ever need to justify them), your limits represent a firm no-go area for your Dom or Master. They shouldn't ever cross them, regardless of the circumstances. Any good Dom will agree with this.
Of course, in order for someone to respect your limits, they first have to be aware of what they are. This is where negotiation comes into the picture.
On one hand, I'm almost hesitant to use the term 'negotiation' in relation to limits, because that makes it sound like they're something you can or should be talked out of. You shouldn't, obviously. At the same time, though, everything up to  your limits might be subject to negotiation, and it's at this stage when you're likely to discover how much your tastes and preferences align with those of a particular Dominant.
For example, let's say you're into bondage. That encompasses an extremely wide array of activities, and it's unlikely that you enjoy all of them equally. Perhaps you'd prefer if a session involved more or less of a particular variety of bondage. If so, the negotiation phase is when you should speak up about it, otherwise you may end up coming away disappointed with the experience.
At the same time, your Dominant might enjoy a completely different kind of bondage, and may feel that a session wouldn't be complete without it. Do you agree to doing it in the interests of mutual satisfaction even though it's not something you particularly enjoy? Or do you insist on limiting all activities to things you're both going to like equally, even if that means foregoing certain activities altogether? This is why it's called 'negotiation' – there's likely to be some level of compromise.
I should reiterate, however, that 'compromise' should never be about whether or not a Dom violates your limits! If the discussion starts to go in that direction you should immediately be on your guard, because it could indicate that the person you're talking to isn't respecting your limits as much as they should.
At this point you may be asking yourself if it's possible that these negotiations might come to a standstill. That's always a possibility, of course, and it goes back to what I've said in previous posts. A BDSM relationship is exactly that – a relationship. If you're not compatible with someone, then you shouldn't expect that a relationship with them – however limited or short-lived it is – will be successful. And that's okay! It's better to find out that you and a dominant are fundamentally incompatible at the negotiation stage than in the middle of a session.
I think it's also worth talking about two very common fantasies: the submissive with no limits and the dominant who is so skilled or authoritative that they can encourage a submissive into pushing themselves beyond their limits.
If you're someone who thinks that they 'have no limits', ask yourself this: how do you know? If a Dominant had you completely at his mercy, with the ability to do literally anything to you, would you feel safe? What if it turns out the Dominant is violent or dangerous? Would you still be having a good time? But wait, you might say, that's not what you meant! When you said you had no limits, you meant that you're into heavy bondage or 'extreme' fetishes. You don't want to do anything dangerous.
Unfortunately, there are people out there who hear 'I have no limits' and take it as an invitation to let loose on you. They might end up seriously hurting you, either intentionally or by accident. This is why no responsible Dominant will take someone seriously when they say that they have no limits, particularly if that person is inexperienced. Everyone has limits. If you think you don't, it just means you haven't discovered what they are yet.
It is true, however, that some Dominants can help you explore the boundaries of your limits – and, in some cases, push past them. This is something that requires a great deal of trust, and should only be done if you want to do it. And of course, it goes without saying that a safe word is just as important in this situation than it is in any other context. Always make sure you have a safe word in place, and don't even think of 'pushing your limits' with a Dom who you don't trust to respect it!
Limits aren't the same as limitations, and they aren't something that you should ever feel required to 'overcome'. If a Dominant immediately launches into a monologue about how he's going to help you go beyond your limits before he's even met you, it might be time to end things before they move past the negotiation stage.