The main body of today's post will take the form of an interview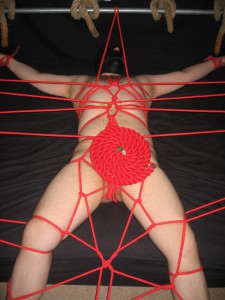 with a sexy guy who has served me as a bondage sub for many years now. This allows me to introduce two new topics to the series and I will be expanding on both of them in the future. First is the fun to be had with bondage and bondage subs. The second is the hot topic of straight (heterosexual) subs giving themselves to gay Doms. The lead character in today's blog post is an enthusiastic bondage sub who is a fully paid-up straight male with no interest at all in m/m sex.
Rope Sub (RS) has visited regularly for several years and is a highly intelligent and articulate guy who lives with his long term girlfriend who knows of his kinky desires but who has no interest in them at all. As far as I am aware she has no idea what he does with me and so discretion was one of the most important factors in our meetings from the start. For that reason I never contact him directly, nor do I know his name or address. This adds to the whole scenario for him and our confidence in each other after so many years, renders such details irrelevant. Rope Sub was happy to be interviewed for this blog and so I posed a few simple questions and here is the result.
Mr T: What makes you submit to a gay bondage Master?
R.S:  For as long as I can remember the idea of being tied up and helpless excited me, long before I knew that these urges were sexual. For many years I believed that I wanted bondage with women, and to a great extent that remains true, but only with myself as the dominant party. However, I found it unsatisfying to be tied by women, and once I started researching the issue online I discovered that all the male bondage imagery that really excited me was by gay bondage tops. My early experiences with male tops, who were all gay, were under the strict condition that there not be a sexual element to the play. This seems odd, as bondage play for me is inherently sexual. However, I remain straight (in that I am not attracted to men) and did not want the play to go too far. Gradually I relaxed my strict limits and was tied naked, and then one day a top began teasing my cock while I was tied. This was scary but felt good, and I realised bondage with men could contain a sexual element without it going too far. Of course, I then met you. Before you I had only met other tops once or twice before they moved, I moved, or they wanted to push my limits further than I was comfortable with. Regular sessions with you enabled me to build up trust and enjoy the sessions more. For me, submission is only possible through the exacting application of effective ropes and gags, which you are able to provide. And of course, you make teasing my cock into an art form, so I'm always begging for more! Consequently it has been a long and complicated road to get to the point where I willingly submit regularly to a gay master, but I'm so glad I have arrived now! The key point I guess is that I can only submit through strict bondage and merciless cock teasing, which you provide!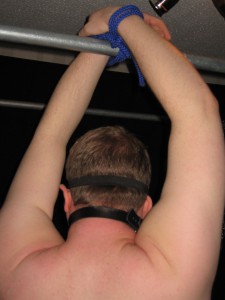 Mr. T: What's going through your mind on the way to a session?
R.S: The journey to a session is always a strange period. It takes at least 45 mins to drive to you, and during all of that time I am excited at the thought of what the session may involve, what your plans for me are. On the other hand, the mundane details of driving to you also intrude. In my regular life the idea of allowing another man to strip, bind and gag me would be totally incongruous, so it is important I try to block the mundane details out so I can stay in 'bondage mode'. For this reason, I often play with my cock in the car to keep myself hard, and never have the radio on. I am focussing, or trying to focus, on getting to you as fast as possible so you can put me in bondage. After that, my nerves and normal life will fall away and be replaced only by a love of the ropes, and of being bound in them by you. The 5% of me which needs to be kept roped up and gagged is a very important part of me, and you keep it well and truly satisfied. Really looking forward to making more sexy pics and videos with you too (anonymous of course), really go to town on me with the ropes, as always I shall be trying to escape.
Mr. T: Does it bother you that when others see those pics they question whether you are really 'straight'?
R.S: Hehe I love that some people doubt that I am straight, I guess that is inevitable! In the early days I met some bondage tops who didn't want to believe it either and tried to push my limits or even force me to have sex with them. Right from the start you have never questioned that or tried to change it. Knowing that you could take advantage of me is part of the thrill. Knowing that you won't is what lets me completely submit to you. In fact sometimes I feel guilty after our sessions that I am being unfair not allowing you to use me fully!
Mr.T: You know I disagree with that! The fun goes both ways and I get as much out of tying up a struggling, good looking, straight sub as you do being on the receiving end.
What are your thoughts during a session?
R.S: During a session my nerves (Yes I still have nerves!) fall away and the overwhelming feeling is of being excited and aroused. Two things are uppermost in my mind. (1) Imagining how I look (the aesthetics of restraint are very important to me) and (2) the physical sensations I am experiencing. Obviously this includes the feel of the restraints, gag and hood/blindfold, but also the feel of your hands on me. The things that arouse me the most are rope bondage and gags, so real highlights of the session and feeling the rope being applied, and the times when you gag me, especially when I try and resist and you force the gag in. Despite being straight I have a big oral fixation and love having a gag rammed into my mouth and buckled tight, the bigger the better! As the session continues I am quickly reduced to total submission by your bondage, your teasing of my body and your words. I like that you are physically strong and can force me into the bondage, as this adds to the feeling that choice and free will have been taken from me. Also, being straight it adds to the feeling that I have been taken prisoner by a predatory gay man for his nefarious wishes, which is a very compelling scenario for me! By the end, when you have me rock hard and begging through my gag for release, you have broken my will completely and I am yours. My cock felt like it was going to explode last time.
(It's hard to concentrate at work now when all I want is to be roped up on your bed….)
Mr.T: HeHe I seem to remember it pretty much did explode! How do you feel when you leave or later on at home?
R.S: Once you let me come my mind becomes very peaceful as I savour the pleasure I have just experienced and I remain very calm while you begin the (often lengthy!) process of untying me. Once I come my need for bondage evaporates but I still feel under your control until the gag is removed, which for me marks the real end to the session. Thereafter my everyday life comes crowding back into my mind and I seek to head off as quickly as possible. This is not because I do not want to be with you but because the other 95% of my mind, seemingly aghast at what the 5% has just done, demands I get back to normality very quickly. However, I am always keen to see the pictures/video of the session, which allow me to relive the session in my mind until we can meet again. I like being one of your boys, even if not as committed as some!
Mr.T: Just as well since I like having you as one of my boys and as I have said before I do not see your limits as a handicap.
R.S: Hehe I meant more that I only make fleeting visits unlike some of your other boys. I wonder if I will ever meet them!
Mr.T: Would you like to?
R.S: I'm not sure really. As I say the one time I was tied up with another guy it was a bit strange, plus I might want your attention all to myself!
Mr.T Greedy boy! Lol
R.S: When it feels so good I feel justified in my greed!
I should say that RS is a very good looking young guy with the most incredible baby blue eyes which I imagine could get him into all kinds of trouble! His love of the ropes and the aesthetics of the tying gives me the opportunity to practice my rope skills particularly the art of Shibari. As you see by his comments, he worries that I will be left unfulfilled but that really is not the case. If anything I enjoy working on him knowing that the ropework is so satisfying for it's own sake but also that my efforts can get a straight guy so turned on that I can have him begging for sexual release. BDSM can be, and often is enough on its own and sexual release is not essential. It is all about the consensual power exchange.