In the previous post I considered one particular type of submissive but they are not my only 'type'.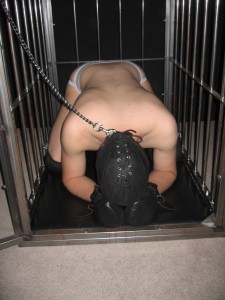 I'm often asked both by Doms and subs to define my ideal sub. What is it that I'm looking for when I'm recruiting? Maybe my criteria are not the most obvious choices, but for me they are the factors which will lift a new sub out from the crowd –  and believe me, the crowd is huge! There really are way more subs than Doms out there, both male and female, so a Dom can afford to be choosy and the sub needs to stand out as unique.
The most attractive feature to me is the right attitude. Yes, of course I look for a certain submissiveness but it needs more than that. Some submissives come looking for another man to take control of them and their lives because they are unable to manage their own affairs. I drop those like hot bricks. If you are unable to manage your own life then you are certainly not going to add any value to mine. Sadly, there are Doms out there who will swoop on the helpless and take advantage of them for their own selfish pleasure, so beware.
Another part of the right attitude is open mindedness. By that I mean a readiness to learn and a desire to experience new things.
Many of my peers express surprise at how much I enjoy working with novice subs. They see them as hard work but I see them instead as eager, fresh, hungry, grateful and mostly unpolluted by bad habits. Don't get me wrong, I see many subs who are very experienced and very good. They, however, happen mostly to be the ones who originally came to me as novices and years later they are still returning and we are able to 'play' together with the ease and familiarity of a pair of well worn but comfortable shoes. Oh, and a good sense of humour and some level of self awareness are essential qualifications too.
It has often been my experience that older and more experienced subs come to the negotiations with a fixed agenda and a wish list of the things they need to have done to them. They will try to lead from the bottom in a way which leaves no room for a versatile and creative Dom to lead or dominate effectively.
The biggest turn on for me with a novice sub is the feedback I get both verbally and non-verbally as they experience something new for the first time. I expect every sane sub to come with limits, but in our negotiations I try to identify two types as we discuss them. First there are the hard limits, which must be respected without compromise. Secondly there are the 'soft limits' and these are carefully stored away for future investigation. Soft limits are the ones which elicit responses like 'I'm not sure', 'not yet' or, 'I've not heard of that one before'. These soft limits often define the areas to be explored as trust is built and limits are being expanded.
One big difference between casual one-night-stand encounters and and the well-prepared repeat visits is that the former will almost always be the only encounter. First play-dates are often the clumsiest with fears and anxieties ensuring that things do not always go smoothly. The sub is eager to please but nervous, so when the Dom attempts to impress by going through the entire toy-box they will probably experience sensory overload and be too timid or embarrassed to return again.
I prefer the laid back approach and my main aim for a first session is to leave the sub wanting another one! In just the same way I hope I have left you wanting the next episode of this blog series!