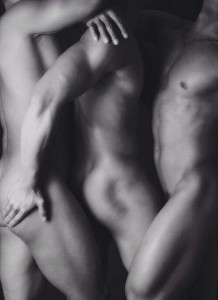 This is the first of two posts about the subject of the Dom owning multiple subs or the sub/slave serving more than one Master. Today I want to start by expressing  some thoughts on this from the Master/Dom's point of view.
I've been in a confirmed long-term relationship with my husband for the past 35 years, and I have no intention of changing that for anyone. I'm fortunate that he fully accepts the part of me that is Master Tim, and while he might not play an active part in the activities, he still knows all my regular subs. Over the years he has, like me, grown to see some of them as close friends who he gets on really well with.
My partner has also welcomed some of them into our home as more than just my subs. He has recognised my ability to share my deeper attachments with more than one partner without ever feeling threatened by them. He knows that he comes first for me, and always will.
Having others in our intimate circle has enriched our lives enormously in many ways. Traditional views of relationships are very deeply-rooted, and not easily disregarded. I do, however, think that we should be open to all options and consider any alternatives available to us. I dislike the broad use of the term 'cheating', since this is often applied to members of groups and families where everything is in fact open and honest.
Many people are now experimenting with polyamorous relationships. So long as they are based on honesty and transparency, they have much to offer. In truth, the traditional heterosexual couple is a product of biology when it was essential to procreate for the growth of the species. This is clearly not the case in the 21st century. The world is overpopulated, so we should welcome alternatives based on peoples' spiritual rather than biological needs.
In BDSM relationships, the dynamics of the 'dungeon' are not always compatible with those of the day-to-day lives of a married couple, either gay or straight. Such relationships need to be allowed to evolve with heavy doses of tolerance and flexibility on the part of all parties involved.
A BDSM Dom, by definition, wants to be in control, and so the ideal situation is to have devoted subs who serve him exclusively. This may come across as being possessive, but in reality the reasons are usually more more practical. For one thing, all Doms operate differently, and they prefer to have subs who understand their ways and are unpolluted by contrary training from other Doms. Also, there's the question of availability. If a sub is dividing his or her attention between more than one Dom, they will not always be available when needed.
I, for one, realise that this can be very unfair on the sub if, as in my case, the Dom is already in a committed relationship with somebody else. This allows for compromises which can lead to a much more realistic and fruitful time for all concerned. In my experience the relationship between Sub and Dom can be as deep and meaningful as any other.
Some couples do manage to have lasting, life-long arrangements, but they have to come up with their own rules for living, often through years of trial and error.
For me, there is only one ironclad rule: Do Not Judge.  With this in mind, always be prepared to listen and learn. Be flexible and open minded. What works for one person may not work for you, but you can always learn from it.
I would like to end with two salutary thoughts for career dominants. These situations are rarely considered or spoken about, but they are important.
Firstly, when submissive guys are swearing allegiance to me, I remind them of two exceptions ot my authority. This always generates a laugh, but it's a fact that Mothers and lovers outrank Masters! Know who comes first in your life and respect each in turn.
Secondly, when a Dom invests time and effort in training a sub, the attachments can run deep. It often happens that the sub will later find the person that they want to spend the rest of the their life with. This can be a hard transition for the Dom, and the sense of loss can be quite profound. Personally, I love it when a sub that I'm fond of finds a partner and goes off with them to start a new life. I'm genuinely happy for them, but that doesn't mean that the loss is easy to bear.
Now if that's not a plot for a new novel, then I don't know what is.
In the next posting we will look at this idea from the sub/slaves point of view.