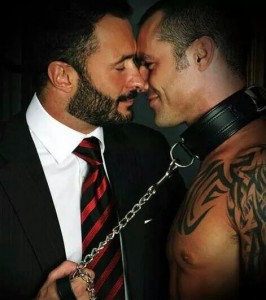 Last week I wrote about multiple members in d/s or BDSM relationships. For today's blog I've asked my Alpha slave to give us his point of  view on the subject. This is one of the most common inaccuracies that I see in fictional representations of our relationships so it is appropriate that since we are both authors, he uses this same topic as a starting-off point for today's post. I've added a note at the end about the role of the alpha slave but first let's read what he has to say:
Think about a story you've encountered about two men in a Dom/sub or Master/slave relationship. If you read M/M romance or erotica with BDSM elements, that will be particularly relevant. (I'm talking about men here because my only experience is with the gay side of things. M/F and F/F relationships might work the same way as what I'm about to describe, but I don't have first-hand experience of it!)
Most likely, the story will build towards the two main characters establishing a monogamous relationship – either a Master/slave setup, or else an ordinary relationship with BDSM practice included. Obviously, when you're writing about a couple who find their 'happily ever after', it makes sense to have them be completely committed only to each other at the end. That is, after all, the romantic ideal for most people.
In reality, however, I think most people involved in the M/M BDSM worlds are in at least partially open relationships. Some guys have a boyfriend or partner as their 'main' relationship, but see a Dom on the side. Others see multiple Doms, without any of them also being their partner. The variations are probably infinite, but in my experience it's relatively unusual for someone to have a single, monogamous boyfriend who is also their only Dom.
But what about Master/slave relationships? If they're 'full-time', shouldn't they also be monogamous?
This is where things get tricky, because I'm sure people have very different ideas of how a committed Master/slave relationship 'should' work. I can only talk about my own experiences and opinions, so I'll limit this post to those.
Personally, I've always felt that a slave should be exclusive to his Master, but that a Master need not limit himself to one slave. If this seems like a double standard to you…well, it is, but that's not necessarily a bad thing! For me it goes back to a slave's role, which is to serve and please his Master. Isn't it more desirable for a Master to know that a slave is committed entirely to him, without having his attentions divided among multiple people?
In reality, of course, whether this is going to work for you will depend largely on your personality. If you can't imagine yourself 'sharing' a partner with someone regardless of the circumstances, then no amount of high-minded philosophising about BDSM power dynamics is going to make it easy for you to know that your Master is seeing slaves other than you. For me it's never been an issue at all, but that doesn't mean everyone will feel the same way.
As with any other kind of relationship, it probably helps if both people are open with each other. Even if you're okay with the thought of sharing your Master with other people in theory, being kept in the dark about what he's doing with other people still might not be much fun. That's the kind of thing you'll want to discuss in detail at the beginning of the relationship, before either of you commits to anything long-term.
It's also possible that you might end up sharing a Master with more than just subs, and this is where the fictional scenario I described in the first few paragraphs breaks down a bit further. How often do you see couples in books where the Master has a husband or partner in addition to a slave (or slaves)? It's actually quite common in real life, but maybe it doesn't fit with a fictional narrative too well!
Whether you can make a situation like that work is largely going to come down to the three (or more) people involved, which is why I think it's so important not to rush into anything when it comes to BDSM relationships. I'm sure you have a mental image of the ideal Master/slave relationship – open or monogamous, two people or three (or four, or five…), or some other configuration that I haven't even thought of. If you look hard enough, you're bound to find someone else who is looking for the something similar enough that you can make it work.
And if you are writing BDSM fiction, leave yourself open to the huge variety of relationships that exist in the BDSM world. There's a lot more out there than just plain monogamy!
Master Tim – In a relationship where the dominant has more than one slave, or submissive, the person accorded the greatest power or respect among all the slaves may be referred to as the alpha. The alpha slave has seniority over the others and may help the Dom, or Master to train, organise and even, with permission, to use them for the benefit or entertainment of his Master. The alpha may not be the oldest or the longest serving of the Master's subs but he will be chosen on merit to fulfil the role. In my case, my alpha has served me fully and faithfully for over 10 years and come to be a significant member of my family.