It's time to look at BDSM in the context of the big wide world out there. This post is a two-parter and I asked my alpha slave to give us his thoughts for this first part and next time I will explore some of the other options out there for all you seekers of knowledge, skills and fun.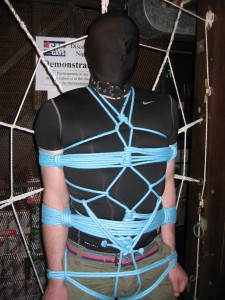 So far every post in this series has focused either on abstract concepts (the meaning of submission/slavery, what to look for in a dominant) or else accounts of my life as a slave with Master Tim. Today I want to widen the scope a bit by talking about the wider BDSM world, both offline and on the internet.
It's entirely possible that you've begun to explore the world of submission without ever encountering some of the standard online meeting places. For the most part, they're just dating profile sites geared specifically towards people looking for some kind of dominant-submissive relationship. Recon, probably the best-known site for this kind of thing, lets you set whether you're more dominant or submissive ('active' or 'passive' in the site's lingo) in your profile settings, something you're unlikely to see on OKCupid.
Needless to say, the images people put on their profiles tend to be a bit different to what you see on 'normal' dating sites. Expect depictions of the full range of BDSM fetishes, some of them quite explicit, as well as a lot of partial nudity. This is very much a NSFW site we're dealing with here!
Having said all that, I'd like to dispel the notion that the online BDSM world is wall-to-wall porn and, for lack of a better term, 'perversion'. There's a tendency for the media to treat kink-related gathering places as vortexes of weirdness into which innocent people might become accidentally drawn, never to return to the safe world of straight vanilla sex. In reality, a lot of interactions on Recon boil down to requests for meet-ups or fantasy-fueling discussion of specific fetishes. I've never actually been on a traditional dating site, but I imagine they're not too different to Recon.
If Recon is the (gay) BDSM equivalent of a dating site, then SMGays is probably analogous to a club where most of the clientele are there to hook up with someone for the night. SMGays is a London based organisation which seeks to educate people about the world of BDSM. The organizers run themed 'Discovery Nights'  focussing on different aspects of BDSM and cater primarily to people with little or no previous experience in a particular fetish or subculture. As a newbie-friendly environment, they tend to be very welcoming. You can show up to take part in a demonstration or just stand on the sidelines and watch, which I would probably advise doing if it's your first time.
Having been to SMGays a few times now, I'd say the media's depiction of a real-life BDSM gathering is actually too tame, probably because you can't show explicit sex acts on TV. Here, in no particular order, is a list of things I saw or experienced during my first trip to a gay BDSM club:
People dressed in everything from full leather gear to almost nothing at all.
A sex sling (which was in use at the time).
A St. Andrew's Cross (also in use – Google it at home if you don't know what that is).
A guy in a vacuum bed (again, Google it 

at home

if you don't know what that is).
Doms leading collared submissives around with leashes, one of whom decided to feel me up from behind even though I was clearly there with Master Tim. I politely rebuffed him!
Spanking (heard rather than seen, but the sound is fairly hard to mistake).
And so on. If anything, many fiction writers actually don't go far enough when they decide to depict BDSM gatherings with no real-life experience. If you can imagine it happening between consenting adults, chances are it's going on somewhere in a city near you!
There is one thing I want to stress, though, which is that the people you'll meet at an event like SMGays are, for the most part, perfectly ordinary. There isn't a separate class of weird people who engage in kinky behavior 24/7; rather, there are normal people who just happen to be interested in unusual things. BDSM is a huge leveller of class and almost every other type of differential you might think of. For all you know, the bland office worker behind you in the line in Starbucks might have been enjoying all kinds of fetish activities the night before!