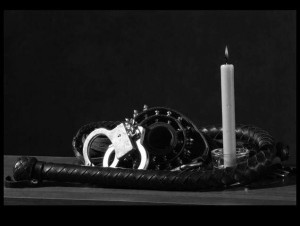 I have previously touched on a point that many readers of my stories have made; that, for obvious reasons, my characters and scenarios tend to depict a more accurate representation of the BDSM lifestyle than you generally see in works of fiction. (Actually, before I go any further I should say that this isn't a knock against people who write about BDSM without having 'lived' it; only that someone with decades of experience is obvious going to be able to write about it more truthfully than someone with none.) My Alpha slave and I have discussed this at some length and so I asked him to write about it here:
I think it's safe to say that most examples of BDSM in novels, TV shows and films come from an outsiders perspective. I'm sure you've seen a scenario like this a dozen times in crime dramas: the detective digs into a victim's past, only to discover that – gasp – they were into being tied up on Friday nights. Cue a scene in which the bewildered main characters, the audience surrogates, nervously entered a darkened BDSM club – or, if the writers are feeling particularly titillating, a 'sex dungeon'. (What exactly is the difference between a 'BDSM dungeon' and a 'sex dungeon', anyway? Discuss in the comments!)
Clearly the intent here is to shock, although real-life BDSM gatherings are probably a bit too explicit to feature on daytime TV. The writers of these shows assume that the mere fact of some kind of kinky sex will be enough to surprise their audiences. They're not writing a documentary, so why bother doing any research?
But unfamiliarity with real-life BDSM practices can create other problems than just shallow representation. I've noticed a trend in fiction about BDSM for Dom/sub relationships to evolve in one of three scenarios, none of which are entirely accurate. Because I'm mildly obsessed with over-analyzing creative works, I thought I'd briefly go through each of them on this blog. This is not meant to the definitive guide to fictional BDSM, but rather some random thoughts that I've been wanting to put some structure on for a while now. Feel free to suggest additions if you have any.
1. The Surprise Fetish
This one comes up a lot in BDSM erotica. Character A is coasting through life having decent-but-unsatisfying vanilla sex, when suddenly they run into Character B, a Dom of some description. One things leads to another, and pretty soon Character A is incapable of having an orgasm without being tied upside-down and blindfolded.
You might argue that this kind of thing can happen in real life, and you'd be right! I'm sure lots of people only discover that they have a particular fetish after stumbling across it (or someone who's into it) an realizing that it turns them on. Where this scenario loses me, however, is when Character A goes from having no interest in BDSM whatsoever (or, in many cases, even knowing it exists) to enthusiastically engaging in a full-blown, 24×7 Master/slave relationship with Character B.
The reason why I'm always incredulous when this comes up is that people who desire that kind of relationship have almost always known it for a long time. It's not at all uncommon to hear people say that they had fantasized about submitting to a Master (or Mastering a slave) since they were far too young to know that there was necessarily anything sexual about it. It was a strong interest, that's all, and over time it grew into something more.
Is it possible that someone could desire a Master/slave relationship without realizing it? Certainly, but I suspect that most people who write stories this way do it out of expediency or because they don't know anyone who has done it in real life.
2. "That's okay, I'll turn you into a sub!"
This one is closely related to the previous trope, except instead of realizing that they're into BDSM, Character A is more-or-less coerced into engaging in it by Character B. Common methods used to skirt the obvious consent red flags this raises usually involve giving Character B psychic powers, of the 'I can tell you're really into this even though you're not' variety.
There's a scene in Fifty Shades of Grey (you didn't think we'd get through this series without mentioning it at least once, did you?) where Mr. Grey tells the main character that he wants to show her his 'play room'. She naively assumes that he's talking about a room where he plays his XBox. Instead of telling her that he's doing to bring her into his BDSM dungeon (or sex dungeon, I forget which), he just leads her downstairs and more-or-less orders her to walk into a mysterious room whose function he won't elaborate upon.
Even if you don't think it's a bit skeevy to bring someone into a playroom even though they have no idea what a playroom is, it's worth keeping in mind that this is his way of starting what's-her-name down the path of becoming his full-time submissive. Does he ask her outright if she's ever been interested in BDSM? Does he say 'I'm super into bondage, want to see?' Of course not, because he can divine the inner workings of her mind, which means that he knows exactly how she'll react to seeing his leather bed and whips and whatever else E.L. James found on Google Image Search when she typed in 'BDSM toys'.
(You may have gathered by now that I'm not a huge fan of that book.)
The point I'm making here is that you can't turn someone into a submissive against their will, and attempting to do so in real life would count as sexual harassment at the very least. By all means, write about character awakening to their previously-unknown interest in BDSM; just try to do so in a way that doesn't make Character B look ten different kinds of creepy.
3. Glorious BDSM Utopia
In real life the chances of a mysterious billionaire funding the creation of a private society built around Master/slave relationships is vanishingly small, but that doesn't stop writers from using it as a setting.
All right, so this one clearly isn't meant to be taken seriously, and the appeal is obvious: since it isn't possible to live out a Master/slave relationship 'full time' in the real world, why not create a separate, isolated society where everyone is in on the secret? I think this speaks to the fact that everyone who lives the BDSM lifestyle has to hide it to a certain extent. Fiction is a place to depict your idealised world, so why not go all-out with it?
Master Tim writes: That final paragraph made me chuckle since Alpha and I are currently co-writing a novel in which some very rich and powerful men do indeed fund a private global organisation based on D/s members. Watch out for 'Trust and Devotion' coming soon!