Back in February I wrote a blog post on why BDSM might be (or probably is) good for you (Master's Voice #15).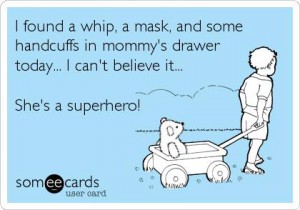 I included a lot of references to academic resources for those curious about the scientific evidence behind the effects of BDSM on mental and physical well-being, so I thought ask my Alpha slave talk a little bit about his own purely anecdotal experience with the benefits of BDSM. What follows are his own words.
If there's one thing I've found myself repeating over and over again throughout this series, it's that being a slave in a Master/slave relationship is something that I wanted for many years before it became a reality – ever since I was a young teenager, in fact. There are two ways to look at this. One is that I was suffering from some form of psychosexual malady which should have been cured by, I don't know, a trip to a psychologist. The other is that I was experiencing a relatively normal – if statistically unusual – form of sexual desire, the indulgence of which would be no more harmful than any other set of fantasies involving consenting adults that you care to name.
I suspect that people who argue for the first interpretation would do so on the grounds of the supposed rarity of interest in BDSM. If it was 'normal', the argument goes, wouldn't it be more common?
My first rebuttal to that line of reasoning would be to point out that it confuses normality with frequency. Certain genetic mutations are extremely common, but we don't say that they represent normal biological functioning because even a casual examination reveals that they are caused by a clear breakdown in normal genetic processes. If you can make the same argument about BDSM, you must have an understanding of human psychology far beyond the rest of the scientific establishment and should probably see about getting yourself a generous grant from a research body.
But I would contend that interest in BDSM is actually far more common than most people think. Sites like Recon have thousand upon thousands of members from all over the world and from all walks of life, meaning that the BDSM illness must be a mental pandemic of the worst kind.
In fact, you can find traces of BDSM in all sorts of unexpected places. Have you ever been in the middle of a TV series, film or novel and suddenly become aware that a part of the story was included only because the author was, er, particularly interested in it? For some reason this used to happen to me constantly with fantasy novels, which tend to include generous (and often out-of-place) examples of bondage, corporal punishment, Master/slave dynamics and many other fetishes, often described in curiously lurid detail. Either these authors are being paid off by Big BDSM, or there's a widespread enough interest in this kind of thing that major publishers are willing to let it slide because they know that a certain percentage of their readership likes it.
So, interest in BDSM might common, but is it healthy? To answer that question I can only point to my own experience. As I've said before, I never had any particular interest in a 'normal' relationship. The appeal just wasn't there for me. I knew for a long time that I would find a Master/slave relationship deeply fulfilling. Should I have just ignored that feeling? Or, worse, should I have gone through the motions with a regular vanilla relationship, knowing all the while that I was essentially faking it?
As a society, we tend to cast indulgence in a certain negative light, particularly if the feeling or desire to be indulged is somehow different to what is practised in 'normal' society. It seems to me, however, that absent any reason not to indulge ourselves – in other words, without any clear harmful effect of indulgence – why shouldn't we do what we want? Certainly, it's useful to have scientific data suggesting that BDSM has either a neutral or positive effect on its practitioners, but I'm not sure that justification is even needed if the only counter-argument available is 'I think it's weird'.
While I'm sure there are people who will argue against BDSM in good faith, in the majority of cases I firmly believe that the negative arguments are based on nothing more than a knee-jerk reaction from people who are uncomfortable imagining a lifestyle that differs too radically from their own. By all means, present a rebuttal if you feel like it, but don't dignify simplistic prejudice with your time or effort; let them present a compelling reason for why you should defend yourself first. My guess is that you'll be waiting for a long time.