So, your eager subject is carefully positioned and warmed up. Agreeing to assume the position was the primary act of submission in this process of build-up; now they have relinquished control and you have seduced them into presenting a sexy target for you to exert your authority over.
What exactly do you do next?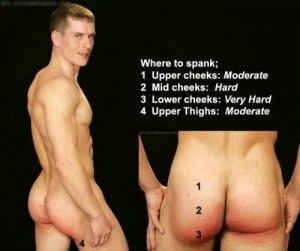 Location
In part 1 I talked about which areas of the rear should be avoided for safety reasons. Now we need to consider areas we should be striking.
The warm-up steps should include areas which you intend to use for the main event. Yes, this may focus on the butt cheeks, but be sure to consider both upper and lower cheeks as well as the thighs. The backs of the thighs are very sensitive, but much better (louder) results will come from slaps to the inner thighs. It is both effective and important that you vary the location as well as the intensity throughout the session.
Delivery
Spanking should begin with a few initial slaps with the hand held rigidly flat to act like a paddle. Then relax your wrist to deliver a slightly different sensation. There is a surprising variety of slaps you can perform, all producing slightly different outcomes on different bottoms.
For example, if you cup your hand slightly you ensure that the entire surface makes contact with the sub's curved bottom and you will achieve a very loud smack. If your aim is to achieve maximum sting, then try just using your fingers. This delivers a sharper, more instantaneous shock to the blushing bottom and you only need to use a few of these to elicit a great response.
To add further to the intensity, try using an open palm with fingers spread. This has the effect of reducing air resistance between your hand and the target, but it also increases the area of impact.
Of course, you need to pace your delivery with any of these styles. The finger-slapping in particular will leave the spanker in more pain than the spankee after an extended period of time. Speaking of which…
Pace and Intensity
My general advice about pace is to keep it steady,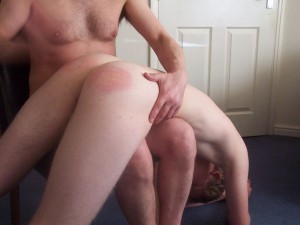 with some rhythm to it, but also keep it unpredictable. Less is more, and intensity is not about force.
Begin with slow, steady slaps through the warm-up and early stage. Take care not to extend the period of soft slaps for too long or boredom will set in. As you move into the heavy spanking, you need to break it up with some medium slaps or even massaging or the session will become unsustainable for one or both of you.
I find that a good tactic is to build up and maintain a steady pace for a while and then to suddenly stop. This leaves the subject wondering what you are up to just before you start again with a series of harder slaps. Another approach to the mind-games is to suddenly focus on one butt cheek and then the other. You are asserting your control and dominance by taking away the sub's ability to predict your actions.
Communication
It is essential to maintain good communication throughout the spanking session. Don't limit this to two-way communication either. Your eyes and ears should be fully employed listening to the reactions of your subject and watching their body language.
Don't forget to have a safe word in place, but also use a check-in of some kind, especially if one or both of you are newbies at this. The traffic light method works for many, but I have also employed a more graduated scale of numbers going from 1-10. Here, 1 is hardly felt while 10 is the worst pain ever. This also allows for some measurement of the intense portion of the session, where I would aim to keep within the range of 5-8.
This numbering is quite different from the counting of slaps. Some spankers like to have the spankee count each slap. This can be fun in a ritualised punishment session, but it is more suited to formal CP situations (e.g. caning) and should not be treated as the default for a more fluid spanking session.
Good communication will allow the session to be extended for as long as possible for both participants.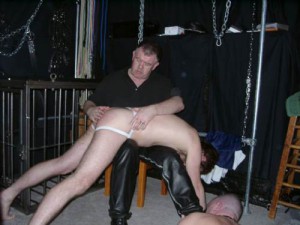 Aftercare
My readers will know that I am a great advocate of good aftercare in all BDSM activities. Spanking sessions are no exception to this, and you need to have your exit strategy in place.
If this has been a formal spanking session which ends with the final slap, then you need to move straight to aftercare. this may begin with comforting strokes or even the application of some cooling lotion to the skin. Some will want to take their bruises away with them as a badge of merit; others may be fitness fanatics who don't want to display a bruised bum at the gym. Here it may be helpful to rub in some Arnica, which can be a very effective herbal anti-bruising cream.
Hugs and cuddles are important, as is praise for a good session. I prefer to leave any discussion or analysis of the session itself for another time. Offer your sub water to drink as well! If the session was for the delivery of a punishment, now is the time for forgiveness to be gently given.
For many, a spanking session may be part of a longer BDSM session with an expectation of sex to follow. The level of arousal during a spanking session can be extreme. Toward the end of the spanking, the arousal can be intensified with well-placed stroking and/or fingering. At some point late in the session, the spanker may find it useful to keep some lubrication to hand in order to aid the process.
This has been a long three-part series, but I hope it delivers enough detail to give you the confidence to go out and try it for yourself. If you're an old hand, then I hope it has been a good review of the basics.
Nothing develops skill or improved satisfaction like continued practice, so get out there and start connecting your hand to some bottoms! Let me know how it goes, and I hope you have a spanking good time.