Whether I'm addressing friends from the BDSM world or my many author friends there is one acclamation that you hear me use a lot: Porn is not Research. If you wish to live the lifestyle or dabble in it, this is very important. Maybe you are wanting to write accurately and descriptively about it. Either way the fantasy world of porn can give a wholly false impression. In truth BDSM without the checks and balances, without the careful negotiation and preparation could be a very dangerous thing. In this blog I intend to look at the differences and relate them to real experience.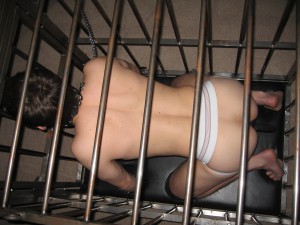 My Alpha Slave often talks about how the months (or years!) leading up to his first real-life BDSM experience involved a lot of research. Like so many he sought out blogs written by experienced Doms and subs. Perhaps like him you've sought out some of the many books written on the subject.
Or, and I'm guessing this is as likely if not more so than the previous options, you looked at porn.
Obviously there's nothing wrong with that! BDSM porn is abundant on the internet and elsewhere, and it's certainly a valuable tool in determining what exactly you're interested in. (Of course, it has other, non-educational benefits as well.)
The problem is that, as always, porn depicts a very skewed version of reality. Just as vanilla porn shows a heavily idealised (or non-idealised, depending on your perspective) view of sex, BDSM porn shows a version of the Dom/sub relationship that is unlikely to exist in reality.
Rather than going through all the ways porn movies 'get it wrong', I'd like you to ask yourself a simple question: what does porn not show?
The answer, obviously, is 'real life'. Most BDSM porn doesn't show a sub arriving at a Dom's house (or hotel room or club or what have you) for the first time. It doesn't show the actors negotiating over limits and boundaries. It certainly doesn't carry on after the money shot is over to reveal how the Dom and sub get along outside of the playroom/dungeon.
These are all things that are going to happen in the real world, but porn movies aren't going to give you any pointers on how to handle them. Going solely by what you see in pornography, you might think that BDSM relationships are things that happening spontaneously to a pair of automata who exist in their own pocket universe.
The one exception to the rule might be erotic fiction, which often at least pays lip service to depicting the full breadth of a Dominant/submissive relationship, but here we get into the issue of accuracy. Most authors of erotic fiction do not have real-life experience in the world of BDSM, and are likely to base their descriptions of it on second or third-hand information. (Or, worse, they might base it on those porn movies we just spent several paragraphs discussing.)  By all means, read fictionalized accounts of BDSM relationships as a way to fire your imagination, but don't expect what you read to be perfectly in line with reality.
Ultimately, any media created primarily for titillation is a fantasy, and nobody expects or even wants their fantasies to match the everyday experience of their real life.
To quote my Alpa Slave again "In my case I was lucky, because in Master Tim I found someone who was able to take what I'd been fantasizing about for so many years and turn it into a reality, but even still there were things I couldn't have predicted before I met him – mostly because, well, I hadn't met him yet! My idealised 'fantasy' master was nameless, faceless and mostly devoid of any personality. He was an idea, not a human being, and anything I imagined happening with that idea couldn't possibly happen exactly that way with a real person. The reality is so much better than what I envisioned, but it doesn't change the fact that that disconnect exists and is something you should keep in mind when you're planning your future life as a submissive or slave."
Porn has been around for time immemorial, but there is now a new kid on the block when it come to BDSM fantasy. The internet has changed the way we find each other and interact with each other in ways we could never have expected. My reason for inserting this topic is the explosion of social media and of dating sites. We are all well aware of how transparently truthful people are on such sites and how we should believe online biographies implicitly. Yeah right! If the number of fit guys with 10″ dicks is true, then anatomists need to reassess their idea of what is average. Also when it comes to listing ages, the internet seems to indicate that number blindness is far more common than we thought!
For those seeking to find BDSM partners and experiences, there is a more insidious issue here. People spend a huge amount of time gathering their 'experience' online before they build up the courage to try the real thing. It is therefore more than likely that their expectations will be much closer to fantasy than reality. I find more and more that BDSM novices are only novices of the real thing and that faced with the reality they are at best confused and at worst, quite disappointed.
As a novice practitioner you should also be prepared to enjoy things you never thought you'd enjoy and to dislike things you were expecting to like. This is probably more relevant for people who want to seek out a Dom/sub relationship heavily based around shared fetishes, but it's worth noting for everyone: just because you enjoy thinking about something doesn't necessarily mean that you'll enjoy doing it for real. It is a great shame when it happens, but it is easy to imagine someone being confused or disappointed when they discover that the thing they've been craving for so long turns out to not be exactly what they wanted after all.
Ultimately, there's no amount of research – porn-based or otherwise – that can prepare you for meeting a Dom or Master for the first time. Trust your instincts, keep an open mind and wait for the right person. There's no better way to make sure that your fantasies become a reality.