My most popular blog series, The Master's Voice and the Submission Journals, are now almost three years old. I've decided to compile all of the posts that make up the series into a single, comprehensive BDSM handbook. This will include a good deal of additional material from what you'll find in this blog series, including updates on practical advice, anecdotes, interviews and some short fictional stories as well.
The original motivation for the series was to be a go-to resource of good, accurate information on BDSM. Over many years I found myself being asked a lot of the same basic questions. It made sense to be able to direct people to the blog rather than repeating myself with the same answers,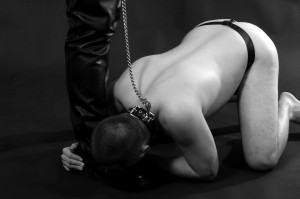 There is still a great deal of misunderstanding about the BDSM lifestyle and the behaviours which constitute it. I have found that a good deal of the information which is out there ranges from simply vague to downright dangerous.
At the time of writing the original blog posts, I also found myself giving advice to a good many M/M writers who wanted to include realistic BDSM themes and scenes in their books. Prior to this, many had depended on porn or anecdotes for their research. Those who have attended my workshops and panel presentations will have my heard my mantra that 'porn is not research' – if you're going to write about BDSM, you owe it to yourself and your readers to find a more reliable source of information.
So why me? What qualifies me to give advice to others?
As Master Tim, I have been active in the lifestyle (Gay BDSM) for 43 years. During that time I have learned a great deal about BDSM practices and the people who engage in them. I have been lucky to share that journey with many others and have trained numerous submissives, slaves and other tops/Dominants in that time.
I am very fortunate in having a wonderful group of subs and slaves who I see on a regular basis. All are different in their own way, but it pleases me no end that they keep coming back for more. Some have now been doing this for up to twenty years.
As a lifelong educator I see it was my duty to pass on knowledge and experience. For many years I have supported the SMGays organisation in London. I was honoured to be asked to join the organising committee of the group and have now taken on the role of Dungeon Master at our monthly Discovery Nights.
As for my principles and beliefs regarding BDSM, I'm sure that those will become clear as you read the series. This will not be a solo endeavour, since I will depend very much on the input of my slave of the past ten years and on other guest contributors.
For those who saw these posts the first time they appeared online, we will be adding additional content to them now that we're reposting them. The book, when it comes out, will have a great deal of extra material on top of that. We hope to post regularly on Fridays, so do watch out for weekly updates. Also feel free to post any comments or questions as we go. Have fun, and as always, play safe!