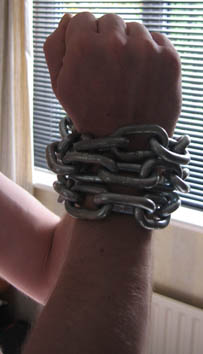 Tim has brought together his coaching skill and knowledge with his extensive experience of the Gay BDSM world to define a coaching niche within which he offers a sound, professional framework to move you along on your journey of exploration and fun!
There are flexible options available to help anyone wanting to take positive steps forward in the BDSM world, so why not contact Tim direct by email to arrange a short free consultation to establish your needs? Whether you're a complete beginner trying to get started in gay BDSM or a long-time member of the community who's stuck in a rut, Tim can help.
Personal coaching is usually delivered in sessions of one hour each, or as part of a cost-saving package of 5-6 sessions including free personality profiling. All sessions are delivered one-to-one over the phone, by Skype, or in person according to circumstances and at times that suit you.
Coaching can be done one-on-one or with couples. BDSM relationships run into trouble just as often as their 'vanilla' counterparts, and an experienced coach can help show the way to resolving whatever issues you may be experiencing. If you think coaching might be of benefit to you and your partner, get in touch.
Tim is also happy to undertake group or team work and is very experienced in delivering workshops, demonstrations and seminars.
Special rates are available for students and young people.
Tim also offers coaching in many other areas of life. If you like the sound of everything above, but feel that you would benefit from more general coaching, have a look at Tim's other coaching business.