Yesterday's post on here was presented in the form of an interview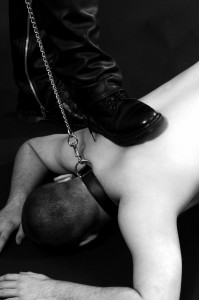 with one of my long-standing heterosexual subs. That, as expected, generated a great deal of feedback which was mostly very positive. The hottest thread of the conversation was no great surprise, as it's a conversation I've been fielding for many years. It took the form of comments or questions such as "He's not really straight though is he?" or "He's gay/bi but just doesn't know it yet," or even "He's just too scared to admit that he is gay." and worst of all, "when he is tied up you should just fuck him. That will sort him out." Are you serious?
I now want to dispel a few myths and clarify this whole gay vs. straight question in BDSM. I know that there are some who will never agree with my statements here but they are based on forty years of experience, discussion and observation.
Of course I understand the excitement of the whole idea of a gay man having sex with a straight guy. It is the stuff of fantasy and porn and I'm sure the same exists for the ladies too. The first myth to be dispelled it the notion that BDSM and sex are interdependent. Of course they can be and they often are, but they certainly do not have to be. They are two very different things and I believe that in essence they are not related. The need to submit. The desire to give oneself to another is far more basic than the desire for sex. If a heterosexual man has a powerful desire to experience submission, debasement, humiliation or emasculation, then surely there is no more extreme form than submitting to a gay Dom.
Of course sex can play a part in that loss of control. For some the fear of sexual use adds something to the feeling of submission. Some straight guys will even allow sex as part of the BDSM package either because they see it as the Dom's right, or that they deserve it to happen in some way. Of course, it must be understood that even in these latter situations, the sex is still consensual and must never be otherwise.
I have learned to always keep two important ideas in my mind . I think in 'grey scales' where every individual sits on a line somewhere between black and white but rarely at either extreme. In the contexts we are considering here, the two lines are:
A) The Dom/sub scale where one end is 100% Dom and the other is 100% sub,
B) The gay/straight scale where one end is 100% gay and the other is 100% straight. Maybe true bisexuality lies midway between these two but it could be seen as a whole new greyscale of it's own.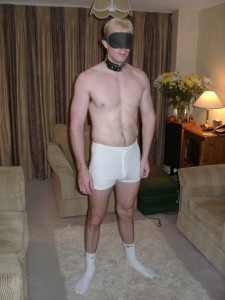 I believe that each individual sits in their own unique position on each of the scales and no two people will be the same. This for me is both the challenge and the excitement in the whole process. Every person I encounter has their own unique story. Everyone has their own set of needs, desires, experiences and limits. Perhaps this is best explained if I introduce you to some of the non-gay subs that I am proud to know or have known over the years. I am disguising their names but they will recognise themselves and some will recognise each other where they have met with me.
1) Pete: (see picture) Young, successful, wealthy, fit, entrepreneur. Pete liked to be used in rough roleplay scenes where he was 'forcibly' stripped and dominated up to and including 'forced' sex and mock 'rape' scenes. Pete identified as straight and he would arrive with his own video camera to record the session for replay to his girlfriend in their own kinky sex sessions!
2) Bob: Happily married very masculine guy who identifies as straight/bi. Visits once a month for utterly submissive sessions including humiliation and full D/s sex. After almost 20 years of this we have few limits.
3) James: Happily partnered straight guy who likes to submit and worship his Dom. At first this was completely non-sexual but over several years more and more sex was introduced at his request and it is now a regular part of each session. Ever since the first session, James has a tendency to 'vanish' after each visit for varying periods of time. This possibly allows for feelings of guilt to be resolved before he gives in to the need and calls again.
4) Harry: Bi guy who lives with his long term female partner and child. Harry is a successful business man in a position of great power and responsibility. Harry likes to escape periodically in order to experience intense bondage, and moderate pain. Sex is seen as the right of the Dom to take as part of the domination.
5) Al: Married guy who identifies as bi but believes that if he'd had access to the internet earlier in his life then he may not have married but chosen a different path. Al is a kinky sub but has a strong sense of duty and is genuinely devoted to his wife and child so would change nothing now.
6) Terry: First appeared as a 19yr old straight lad seeking use as a leather and bondage sub only. After about two years he started to ask for sex to be included in the sessions but during this time he met the girl of his dreams so he retired from the BDSM life to get married and have children. Fast forward several years and Terry was exploring kinky sex with his willing wife. He now identified as bi and not only came out to his wife but told her about his one time Master who he wanted to see again. Not only did he return as a very fit and sexy 32yr old but it was with his wife's full knowledge. I even chatted with Terry's wife on the phone and on one occasion I sent phone pics to her during a live BDSM session with him.
7) Ropesub: You have already met him when I interviewed him for Master's Voice #8. This bondage sub identifies as completely straight but he is partly turned on by the fear of gay sex. He depends on the certainty that I will never break his trust.
This list is not complete but I hope that it paints a useful picture. There are no rules other that consent and labels rarely fit. We must abandon outdated and irrelevant roles and instead treat each person as a unique and special individual.
It is worth mentioning here that of the seven guys listed above, five of them had first sought out female Dominatrixes. In each case they mentioned the same reason for turning to gay male doms. They all found themselves serving Dommes who they saw as physically weaker than they were and so some part of the much needed control was missing. It was only when they gave themselves to male Doms that they felt physically dominated. I do not believe that to be a universal state at all but it was what worked for them.
In conclusion I can only urge that we forget traditional labels and start seeing 'people'. Then the opportunities for mutual fun and satisfaction are endless.