BDSM – The Dark Side, Part 2
In the last blog post I described a BDSM world which was apparently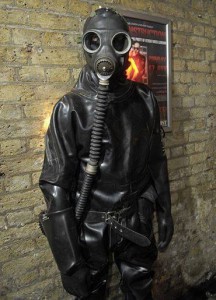 fraught with risk and danger. As with any hazardous endeavor, the right precautions can help you to reduce the risk as close to zero as possible. Let's take a look at some of the principles and practices which will allow you to construct your very own BDSM hazmat kit.
I have previously mentioned several elements of safe practice. The catch phrase which has been used for some forty years in the BDSM world is Safe, Sane, Consensual (SSC). This remains a good catch-all although in the last five years or so many have started to question the subjective nature of what was considered 'Safe'. Out of this has grown the use of a new phrase 'Risk Aware Consensual Kink' (RACK). Yes, this is possibly more accurate, but since I had always considered 'Risk Aware' to be part of what was 'Safe' and 'Sane' I do not see the need for a big either-or debate here. I sometimes think that the term 'Happy Sex' would do me just fine, but I'm being flippant. My point is that the words we use are less important than the actions we take.
As a novice you may not have much experience to call on, but you do have a couple of hard-wired items in your personal armory. First is the 'gut feeling'. This is not some imaginary thing, but it is a part of your genetic make-up. Our primitive ancestors evolved a part of their brains specifically devoted to survival and which elicits what we call the 'fight or flight' response. When your gut tells you something is not right, it is your primitive brain protecting you,  so listen to it. The second level of protection is your own list of values and beliefs. These dictate your personal standards and should be seen as the base line against which you measure the evidence of your senses. Now with your 'gut' at the ready and your checklist of personal standards in place, lets go find a sane partner to play with.
You would never make a major purchase like a car or a house without careful research, so why would you put your life in the hands of another without researching them too. These days , most BDSM connections take place online. Just as with online shopping we need a cooling off period and a returns policy, so when we have made a connection we should start the negotiating process. If your potential partner claims to be experienced then ask for references from others whom they have played with.
Most important of all you should have a pre-session meeting in a neutral public place to assess each other in person. During this meeting you should discuss and agree your limits and your safe word.
If anyone refuses any of these steps it should be taken as a red flag and you should walk away without hesitation. With the meeting in particular, be very wary of any last minute changes of plan or venue. Simply cancel the meeting and rearrange it if possible.
So you have met your play mate and you are ready to move on to your first play date. You can still put solid levels of protection in place to ensure your ongoing safety. To my mind, safe-calls are the easiest to arrange and the hardest to get around. Safe-calls can be used in various ways but they need to be set up in advance and they depend on you having in place a reliable friend. Here are a few options:
1. Leave details of your intended play mate and location with your 'phone-a-friend'.
2. Arrange to call/text when you arrive safely.
3. Arrange to call-text at a given time or after a given period of time.
4. Agree trigger words to be included in any call or text e.g. "he's interesting" meaning "He's a complete freak, call the police!" etc.
Telling your play partner that you have taken these steps will lower any risk level considerably.
You should now be ready to have some fun. You've done your research, met your playmate, agreed limits and safe words. You will have discussed other warning systems such as traffic light codes, intensity codes and you may even have drawn up a contract. Your gut is calm, the red flags are folded away and your personal standards are upheld.
The ultimate arbiter of the first"S" should be the safe word. Keep it simple. When you are about to pass out, you do not want to be trying to remember if it was "pineapple" or "porcupine" so I suggest you go with your own first name, or even just the word "fire"!
Having mentally arrived at the point where you are ready to play, the next level of safety is the more practical one of safe practices during your various BDSM activities. This is a lengthy topic so I will come back to much of it another time. There is, however, one risk about which very little is said and there can be much surprise and great confusion when it happens. Positional asphyxia can be a scary thing when an apparently healthy sub passes out mid scene. The usual cause is lack of blood flow or of oxygen but although the effects are scary they need not be dangerous once a little education is in place.
I have previously stated that a good Dominant should be fully informed and constantly aware of both the physical and mental well-being of their submissive. If there are any health concerns such as asthma, hypertension, anxiety, circulation or weight problems then tread very carefully when doing any activity involving prolonged restraint. Some activities are more prone to this effect than others and they include: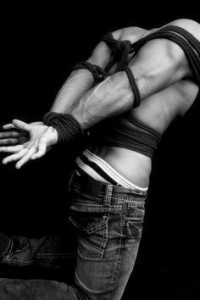 1. Inverted (upside-down) positions or suspensions.
2. Hogtie positions.
3. Upright spread eagle or crucifixion positions.
4. Any positions where  arms are held above shoulder height.
5. Prolonged pressure on torso or rib cage.
6. Prolonged stress on shoulders or torso eg face down with hands tied behind back
Any or all of these can put a great strain on breathing and can leave the body too exhausted to breath effectively. I am a big guy and I am well aware that if my arms were tied behind my back, the strain on my shoulders would prevent my chest from expanding to breath properly.
Some of these positions restrict blood flow and can also lead to fainting.
Rapid reaction to these problems means that they should never escalate to danger levels but I must add one clear work of warning. MONITORING. Even the least risky bondage or restraint can become deadly when left unsupervised. I cannot emphasise this enough. Never leave a restrained sub unsupervised. Never put a sub into any form of restraint without the having knowledge and appropriate tools to get them out of it.
Next time, in the third and final part of our trip to the dark side, I will take a brief look at safety in a whole range of activities and also consider the notion of "pushing limits".