After writing the previous post I asked my Alpha slave to add his insights on the subject of time wasters.
I've written before about the importance of large online sites like Recon to the gay BDSM scene. I grew up with the internet, so it's hard for me to imagine a time when finding like-minded practitioners (or, indeed, newbie-friendly information) was more difficult than creating an account on one of the big sites and immediately connecting with any of the hundreds of people online at a given time. I have to imagine that things were a lot more difficult, though.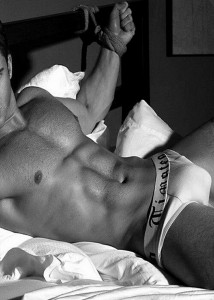 But the convenience of the online world brings its own unique problems. It's easy for someone to create a profile (or many profiles) which completely misrepresent who they are and what they're looking for; and no, in the age of Google Image Search, requiring a profile picture does nothing to combat the problem. I was only active on Recon for a short time before meeting Master Tim, but that was long enough for me to run into several people who I suspected of being 'time wasters' – that is, people who were more interested in creating an online fantasy than meeting someone and engaging in real-world activity.
The phrase 'time waster' is one that you normally see Doms using to describe would-be subs. There's probably a good reason for that; I suspect that the number of time-wasting subs is probably much higher than the number of time-wasting doms, if only because gaining any sort of reputation as a Dom in the first place requires you to actually do things in the real world. In my admittedly fairly limited experience, I didn't run across any Doms who I believed to be disingenuous when they said that they wanted to meet.
I suspect that Alpha may have been lucky in his encounters because the feeling I get from other subs is that there are also a good many time wasting Masters out there too! – Mr.T.
The one exception was people who told me that they wanted to meet immediately, when we had exchanged perhaps a handful of messages. Now, I don't know about you, but in general I don't rush to meet someone from the internet before I know anything substantial about them. It's possible that the Doms I'm thinking of were just very enthusiastic, but when someone was ridiculously quick to suggest a meeting it made me think that it probably wouldn't have happened even if I had agreed to it.
Of course, there's also a darker possibility, which is that someone who suggests meeting straight away is doing so because they have less than noble intentions. I never met anyone who I thought was up to something shady, but it's a possibility.
Now to an area where I can speak with more confidence. In browsing the profiles of my fellow subs I began to spot a certain pattern of traits that made me think someone was probably a time-waster. If you're reading this and are planning on dipping your toe into the world of BDSM, these are things to avoid.
First of all, include a decent amount of information. You see countless profiles along the lines of 'Hey, just looking for whatever, send me a message', which isn't exactly a ringing endorsement of your enthusiasm. If you're trying to catch a Dom's attention, you need to give the impression that you're genuinely interested in having them contact you.
I also don't think it's a good idea to just include a list of fetishes that you're interested in, since it says nothing about you or the context in which you might enjoy those things. (Are you looking for a one-off meeting with some, one or all of the items on the list, or are you a slave looking for a long-term Master who also enjoys those things? Are you exclusively a sub? Do you care whether your Dom is exclusively a Dom?)
Speaking of lists, it would probably be a good idea to limit it to things you've actually done, or else make it clear if you're talking about things you've done and enjoy versus things you think you'll enjoy. I lost count of the number of times I saw a profile with a gigantic list of 'Fetishes I like', followed by a disclaimer that the person has never done any of them in real life. I get that you like the idea of those fetishes, but any Dom will tell you that fantasy and reality are two different things. (I believe we may have touched on this subject once or twice during this blog series.) Make it clear how much experience you have – and please, don't lie about it. That will only end badly.
Some sites, like Recon, attempt to make it easy to differentiate between Dom and sub profiles by letting their users specify, with a numerical value, how much they prefer to play each role. If you make use of a system like this, please keep it consistent with what's in your profile. In other words, don't say that you're a dedicated slave looking for a Master and then put '80% Dom' in your profile settings. (Yes, people really do this. No, I don't understand it either.)
Finally, I'll give the same advice here about offering to meet as I did for Doms. If a Dom messages you, don't offer to meet (or, worse, demand that they meet) five minutes later. Rather than making them think you're enthusiastic, it will just come off as false or rude – or both.
Next time  in Topping and Hugging, I want to explore the the challenges of sub-drop and yes, Dom-drop too!